About us
MESUREX, Manufacturer of sensors and measuring devices for over 50 years
MESUREX continues to grow and currently has offices and representatives in several countries. Over the past 50 years MESUREX has evolved into an international sensor manufacturer.
MESUREX supplies large companies in the automotive, aeronautics, aviation, nuclear, and all industry and research centers. Our products, certifications and procedures are based on our vast experience in numerous industrial applications. They are incorporated into the client product or used in research and development, under the most diverse conditions. We provide a full service, which can range from advice to installation on your equipment.
The characteristics of our sensors are guaranteed: complete reference panel maintained on our site, checked and integrated into the European calibration chains.
Our certifications : ISO 9000 – EN 9100
Our standards used : DO 160- MIL STD- AMS 2750
Our products : MESUREX manufactures nearly 50,000 sensors per year. We offer our customers a wide range of sensors and measuring devices.
Our services : MESUREX controls the entire chain from design, validation, installation, to consultancy services.
Download our brochure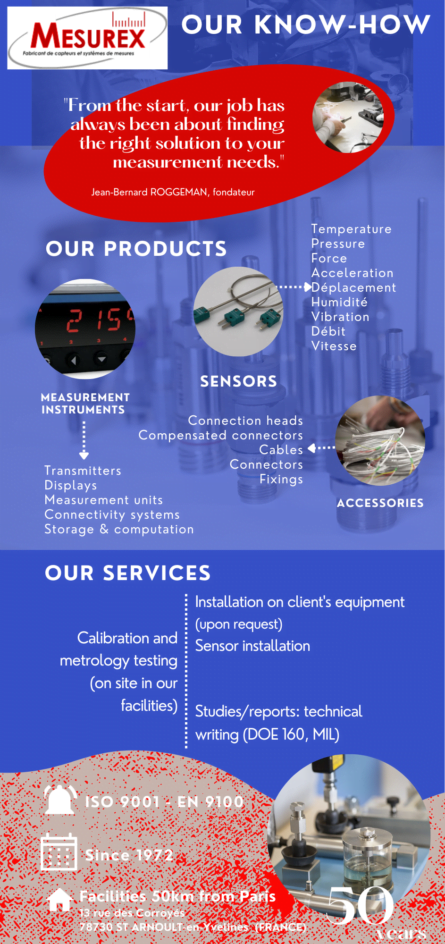 MESUREX is one of the main French manufacturers of sensors and measurement solutions
80% of quotes are dispatched within 24 hours.
Respect of delivery deadlines monitored according to specific process.
Our prices are among the most competitive.
Specifications according to client or established jointly.
Written quality and traceability procedures at each stage of production.
Production rates that can exceed 10,000 pieces per month.
However, many applications relate to one to a few sensors.
Internal metrology laboratory and attached to national chains.
Test and editorial procedures according to compliance matrix (DOE 160 …).
Benches and manufacturing techniques and control regularly renewed.
MESUREX in a few dates
1972 : Creation of MESUREX
1976 : Automobile homologation
1980 : MESUREX becomes multisensor (pressure, force, etc.)
1985 : Creation of an internal metrology laboratory.
1987 : MESUREX validated for flight service, ground test. Supplier of Airbus group, Thales, Safran, Peugeot, Renault, etc.
1998 : ISO 9001 certification, followed by other certifications and attachments.
2005 : Creation of the international representation network (Europe, Russia)
2014 : EN 9100 Aeronautics certification
2017 :  Certification EN 9100 Aeronautics Version 2016
Our means
MESUREX has a premises of 2000 m2 in the Paris region entirely dedicated to measurement. Our engineers and technicians manufacture and calibrate sensors for many sectors, in France and in many countries. Design and simulation by 3D software and appropriate industrial calculation means.
Our test laboratory
Our testing and validation means include environmental processes (humidity, corrosion, aging, wear, vibrations, ovens and cycles, force and pressure benches, etc.). Mesurex has many specialized equipments: acceleration, shocks, force benches from 0 to 50T, temperatures from -100 to 1000 ° C, pressure test bench from 1 to 2000 bars, cycling up to 5 million cycles, vibration cells…), ability to test and simulate extreme conditions of use and environment.
Our machine park
Mesurex has a fleet of machines and a very sophisticated subcontracting network enabling it to manufacture a wide variety of sensors and measuring devices: machining, TIG welds, laser, etc. assembly, connectors, etc. Hot welding machines and work on metal jacketed cable, treatment ovens, etc.
Our competence in studies and design
From customer parts, plans or plans Mesurex can install and / or offer sensors and measurement chains on your various installations, infrastructures or equipment. And develop with you the sensors and the management of specific measurements and tests, in real or virtual.